In the online training "Introduction to ISTDP" we introduce the basic tenets of Attachment Based ISTDP (Intensive Short Term Dynamic Psychotherapy focused on the bond) approach, how to conceptualize the patient, the therapeutic process and basic therapeutic techniques. The small training group allows for interaction and addressing of questions that arise. The training is conducted in an interactive format with rich video footage of various patient cases, presentations and role play practice. Depending on the advancement and commitment of the participants, it is possible to deepen the training by working with their own patients on the basis of the video material in a group intervision.
Class format: 10 90-minute online meetings plus 20 hours of self-paced work
Total: 50 didactic hours, including 20 contact hours
Group: 6 to 8 people
Form of assessment: minimum 80% attendance, keeping a reflection diary and a final test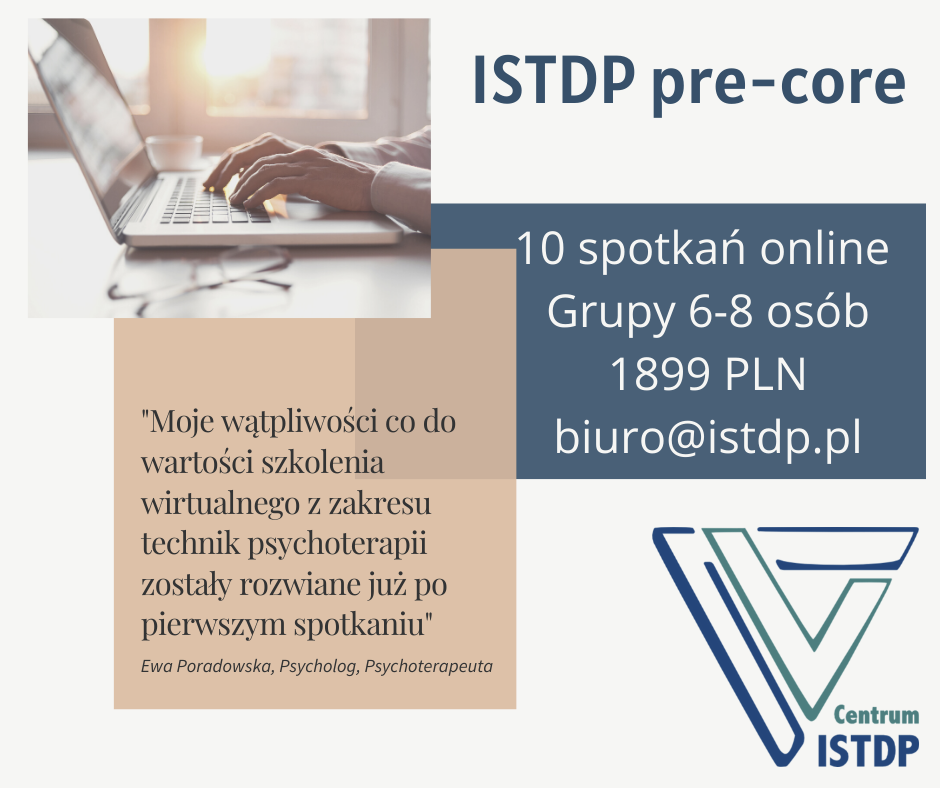 Meetings are held at 2-week intervals, with case studies illustrated with video in most meetings.
You are also invited to an introduction to ISTDP (preCORE) in the form of a 2-day residential workshop.
Group 13 – not available
Group 14 – 4 slots left
Scheduled start date
Group 14 – April 2022,
Group 15 – July 2022
Location: online
Mondays 17:00 – 18:30
11.04.2022 Meeting 1 – Introduction to ISTDP, introductory presentation and sample ISTDP session – case study illustrated with video
25.04.2022 Meeting 2 – Working with the Triangle of People and the Triangle of Conflict
09.05.2022 Meeting 3 – Front door defenses – stimulus
23.05.2022 Meeting 4 – Basement doors defenses – response
06.06.2022 Meeting 5 – Anxiety; assessment, monitoring and regulation
20/06/2022 Meeting 6 – "ParadiseLost"- discussion of publication and patient work with emphasis on T work, defenses and anxiety, and neurobiological regulation of anxiety
04/07/2022 Meeting 7 – "Paradise Lost" discussion of publication and patient work with emphasis on memory issues
18.07.2022 Meeting 8 – Restructuring the ego adaptability
01/08/2022 Meeting 9 – Map to unconsciousness, test preparation.
15/08/2022 – final deadline to submit reflection log and pass test exam.
29/08/2022 Meeting 10 – Discussion of reflection log questions and repeated errors from test exam, conclusion
"…learning the basics of ISTDP is very eye-opening to various aspects of patients' psyches, and I hope to benefit from such expanded horizons as this knowledge and some experience consolidates…"
"I learned how to notice and deal with resistance to therapy, as well as resistance to me as a doctor."
"It was important to help them connect with their doctor and their own emotions. For example, patients avoided eye contact, "galloped," spoke in generalities, used projection, idealization, displacement, ignoring, disregard, passivity, and submissiveness. They used defense mechanisms ( the aforementioned front door defenses) to avoid entering into a relationship with the psychotherapist in which they could experience these emotions."
"I found it important to use the 'Triangle of Conflict'. When the patient became defensive, blocking, for example, attempts to help with anxiety recognition and regulation, an attempt had to be made to restructure the defense by confronting, identifying, and clarifying the defensive function."
"I realized that our job is to name what patients do. Showing that they are hurting themselves in this way and that we are working with them to get them to stop doing it."
"… Through the course, I learned preliminary work in preparation for experiencing emotions. I understood how the defenses on the front door and basement door function and how to get the patient's attention."
"It is worth noting that an integral part was the presentation of the neurobiological basis of anxiety and emotion regulation, which made it much easier to understand the mechanisms activated by the patient."
1899 PLN for 10 meetings
30% discount for those participating in CORE ISTDP